GreenFest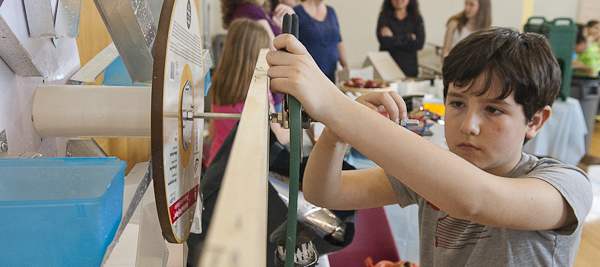 James Broderick adjusting his water wheel power demonstration at GreenFest 2014. James is in the 5th Grade at the Burke school.
Let's See What Young People Are Doing.
By Jerry Halberstadt
Wed, 05/07/2014 - 13:25
On Saturday, May 3, 2014, hundreds of visitors attended GreenFest 2014 at the Captain Samuel Brown School in Peabody. The teachers and students carried out the theme of GreenFest 2014, "STEM Education for a Sustainable Future." (STEM=Science, Technology, Engineering, Math) GreenFest is organized each year by Green Peabody, a committee appointed by the Mayor of Peabody, Edward Bettencourt. Among the many exhibitors were Peabody schoolchildren presenting a wide range of arts, crafts, and science experiments, all around the idea of a green, sustainable Peabody. Recycling and energy efficiency were featured by commercial exhibitors as well as by students. Other exhibits featured academic studies on flooding and marketing environmental issues to consumers, as well as several organizations involved in environmental education and preservation. Children were able to engage in crafts such as coloring and recycling plastic bottles, and creating unique fashionable wearables. The focus on renewable energy sources was highlighted by several exhibits by students that involved constructing a working exhibit, carrying out experiments, and presentations with explanations of the working models.
JJ Jalbert
Alexandra Silva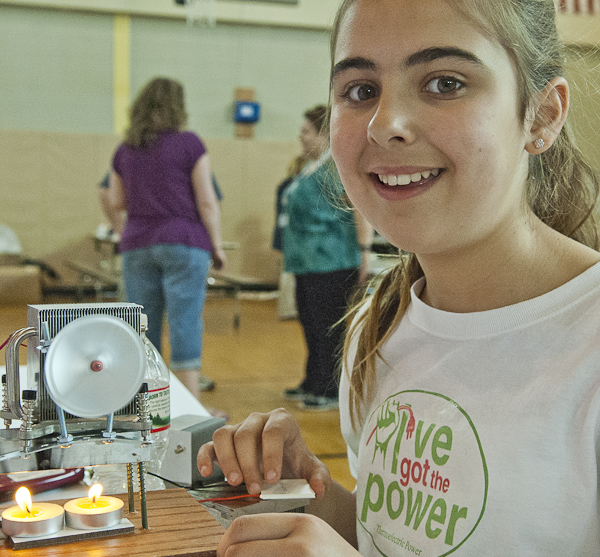 Samantha Silva, 5th grade student at Center School, demonstrates her thermoelectric project at GreenFest 2014.
---