Greenfest 2014
Support the Community & the Students! Attend GreenFest! It's Free & Fun for Everyone!
This year's theme for GreenFest is "STEM Education for a Sustainable Future!
May 3rd, 2014 (9am to 1pm) @ The Captain Samuel Brown School, 150 Lynn Street, Peabody
Join Us at the Brown School:
• Winner of the Massachusetts 2012 Recycle Bowl Award
• Recipient of "Excellence in Environmental Education" Award 2008-2013
Attendees at GreenFest will again benefit from the following services being offered at the event:
• ELECTRONICS RECYCLING
• PAPER SHREDDING! JRM Hauling and Recycling Services will offer confidential shredding to all GreenFest attendees!
On May 3rd, residents of Peabody and surrounding communities will be able to have their environmental, recycling, sustainable technology, gardening and energy-saving questions answered for FREE at Peabody's GreenFest. To learn more about the Brown School recycling programs please click here!
From 9 am to 1 pm at the Captain Samuel Brown School, 150 Lynn Street, Peabody; GreenFest will highlight the green and sustainable technology that will be implemented on the planned new LEED Silver certified Higgins Middle School. This year's theme for GreenFest is "STEM Education for a Sustainable Future." Also, GreenPeabody is offering a scholarship to the class of 2014. All students who are Peabody residents are eligible to be awarded a scholarship that will assist them in their academic career. The scholarship will be given to those who have been active in community and academic activities that are focused in green initiatives. The winner of the GreenPeabody 2014 scholarship will be announced at GreenFest!
Sponsor & Exhibitor List (along with event info) will be added & updated frequently, so please check this website periodically for new info.
GreenFest is a fun, free family event that will feature the following:
• An Exhibit for the Planned New LEED Silver Certified Higgins School
• GreenFest will highlight the green and sustainable technology that will be implemented on the planned new LEED Silver certified Higgins Middle School.
• Exhibit by the Peabody Public School District and presented by David Keniston, School Business Manager
• Educational Exhibits from Salem State University
• Exhibit by Dr. Lindley Hanson: Prof. in Geology at Salem State University, Fields of study: Hydrology, Geomorphology, Coastal & Regional Geology
• Exhibit by Dr. Linda Jane Coleman: Prof. of the Marketing and Decision Sciences Department in the Bertolon School of Business, Fields of study: Green Consumerism, International Marketing, and Social Marketing
• The Peabody Library Creativity Lab
Learn More About the Peabody Institute Library's Creativity Lab which is a community makerspace located at the Peabody Institute Library in Peabody. The Peabody Institute Library's Creativity Lab will provide all residents with the place, tools and learning opportunities they need to become inspired creators and explorers of science, art, technology and fabrication. The Creativity Lab will teach you how to use the MakerBot Replicator 2 3D printer (Video of the MakerBot Replicator 2 3D printer is shown on the right) or an Arduino single-board microcontroller which will allow users to create amazing projects like a self balancing Segway-like Robot or Botanicalls Twittering Plants.
• ROBOTICS DEMONSTRATION
• The event will feature an engaging robotics demonstration that the whole family will enjoy.
• Comparing the five senses of humans to those of robots
• Describing a robotic design qualitatively, observing it quantitatively (torque, speed, distance) over time, and incorporating the standard units for all measurements
• Classifying the many types of robot components (types of sensors, motors, power sources, structure, etc.)
• PAPER SHREDDING! JRM will offer confidential shredding to all GreenFest Attendees!
JRM's mobile shredding unit will be at GreenFest to dispose your confidential documents and guarantees secure document destruction. JRM will shred, without charge, up to 2 boxes of your confidential documents.
● JRM will shred, without charge, up to 2 boxes of your confidential documents.
● THE FIRST 2 BOXES ARE FREE! $5 fee without ticket
● There is a $5 fee (cash only) for each additional box after the first two!
● ALL SHREDDED MATERIALS WILL BE RECYCLED!
• ELECTRONICS RECYCLING
An electronics recycling collection area will accept hardware such as TVs, computers, printers, monitors and more, providing members of the community the opportunity to bring their old electronic items to be properly recycled. A $10 cash-only fee will be charged for each. Very large items may be assessed an additional fee. Old cell phones will be collected separately by GreenPeabody and donated to Safe Haven Shelter, a resource for battered women.
TV's, Monitors, Printers, VCRs, Laptops, PC & CPU Towers, DVD Players,Stereo Components: $10 per item fee
Large Items May Have an Additional Fee!
No Microwaves, No Projection TVs
• Sustainable Science Fair Exhibits
Students will show their concern for the environment by presenting individual science projects at this year's GreenFest.
• Learn more about PMLP's Net Metering Program and 2014 Residential Energy STAR® Appliance Rebate Program
Peabody Municipal Light Plant (PMLP) offers net metering to customers who wish to generate their own electricity with solar, wind, or other PMLP approved renewable distributed generation (DG) systems. Once the PMLP Engineering Division reviews and approves a customer-owned renewable DG system, net metering allows a customer to be connected to the utility's distribution system and any excess electricity received by PMLP can be credited to the customer's account at the rate determined in the Billing section of the Net Metering policy.
• For More Info on PMLP's Net Metering Policy, Click HERE!
• For More Info on PMLP's Appliance Rebate Program, Click HERE!
• CSA Program
Learn More About & Join the Peabody Institute Library's Community Supported Agriculture (CSA) Program by visiting Clark Farm's exhibit table at this year's GreenFest!
The City of Peabody and the Peabody Institute Library have partnered with Clark Farm to bring a community supported agriculture (CSA) program to Peabody this summer, and registration is now open. In a CSA program, members agree to purchase products from a local farm throughout a season. This agreement makes members shareholders of the farm, and each week the farm agrees to deliver the products to the library for shareholder pick-up. A CSA program is a creative way to eat locally and reduce your carbon footprint. In addition, for the duration of the growing season, you know the farmer who grows your fruits and vegetables, and just how your food is produced.
• Learn more about and be a part of the Brooksby Farm Stewardship Program
Stewardship Program Practices:
• To maintain trail safety & use
• Leave as natural wild life habitat
• Maintain wild life habitat diversity
• Consider conducting commercial thinning to promote diversity of wildlife habitat
• Recycling Arts and Crafts (T-shirt Repurposing, Recycled art project)
Refreshments will be available for purchase.
---
Double Click On The Organization/Company Name To Visit Website
To the Peabody Rotary Club "service above self" is not just a motto but a call to action. Locally members provide monthly meals at the Haven from Hunger. This past year members donated their time and effort on a Habitat for Humanity project in the community. The Peabody Rotary Club annually awards college scholarships to Peabody students. Recently, the Peabody Rotary Club donated funds for tornado relief efforts in the Joplin, Missouri and Springfield, Massachusetts areas. Internationally the Peabody Club funded literacy programs in Guatemala, contributed to flood relief efforts in Pakistan and, in conjunction with Rotary International, contribute to the eradication of Polio world wide. These are just a few of the many local, national and international organizations and projects the Peabody Rotary Club supports.
---
Since its inception, IPS (Located on 54 West Dane St, Beverly, MA) has installed many hundreds of solar electric systems for residential power. Independent Power Systems' commitment to quality stems from their passion for the technology and resultant deep knowledge of the products and trade-skill necessary to build robust systems. The company is staffed by Electricians and Engineers many of whom have attained the coveted NABCEP certification. Independent Power Systems foray into the Massachusetts solar market follows the recently launched Commonwealth Solar II Program which promises to set the example for rest of the country. Through a combination of rebates and the ability to sell excess solar energy to the utility, the payback on the investment of a solar system can be as little as six years. With all the equipment in Sunpower systems warranted for a minimum of ten years (up to 25 years for the panels) by the manufacturer and IPS, investing in a solar system is secure and sure. Choosing to produce your own electrical energy from renewable and locally derived resources gives a sense of empowerment that can't be matched.
---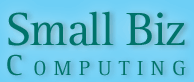 Let the experts at Small Business Computing (Located on 419 Grove Street Reading, MA 01867) build your next PC. They specialize in creating fast, functional, and affordable machines for your specific needs using best-in-class components by leading manufacturers. Small Business Computing call their computers "Green Machines" because every element inside of the distinctive aircraft-aluminum case is a modular, off-the-shelf, non-proprietary solution that can be easily removed and repaired or replaced at any qualified facility. Buying a green machine helps the environment because it never needs to be replaced. In addition to building Green Machines, Small Biz computing routinely repair and upgrade personal computers.
---
Peabody Municipal Light Plant is a consumer owned, not-for-profit electric utility owned by the citizens of Peabody and dedicated to providing safe, reliable electricity and high quality service at the lowest possible rates. PMLP is committed to the protection of the environment and to the welfare and safeguard of the community. PMLP was founded in 1891 after a long and emotional political battle was fought by the citizens of the then Town of Peabody for the right to operate their own electric business. The efforts of our Peabody ancestors resulted in legislation being passed which allowed all cities and towns in the Commonwealth of Massachusetts the opportunity to establish their own electric business.
---
JRM Hauling and Recycling Services, Inc. is a family owned and operated business with more than fifty years experience in the solid waste and recycling business. Since its inception in 1995, JRM Hauling and Recycling Services, Inc. have grown from a small operation servicing the Cape Ann Area in Gloucester, Massachusetts to a leader in the industry servicing all of Massachusetts, New Hampshire, and parts of Rhode Island.
---
Salem State University offers the community much more than top-quality, educational programming. Enjoy an award-winning theatrical performance, take advantage of the print and electronic resources of the library, or bring the family to an exciting athletic event. Salem State is more than the largest institution of higher education on the north shore of Massachusetts. As one of the largest employers in Salem, with over 39 percent of its alumni living in Essex County, the university is a key player and major contributor to the economic development of the region. The university welcomes collaborations with area businesses and encourages the Salem State community to take advantage of what the North Shore business community provides the region.
---
The Peabody Area Chamber of Commerce is an active support organization committed to providing business, government and community information resources and opportunities to its members, and being an involved corporate citizen in the community. Dedicated to empowering businesses to succeed while enriching the community.
---
Located in Peabody on 81 Main St., GraVoc Associates is a rapidly growing technology consulting firm focused on providing solutions in the practices of information security, information systems, information technology, media development, and professional services.
---
Treadwell's Ice Cream (located on 46 Margin Street/Route 114, Peabody, MA) has been a North Shore landmark since 1946. Serving an especially creamy ice cream at "signature size portions" and competitive pricing, Treadwell's not only became a favorite of local residents, but of ice cream lovers from all over The North Shore.
---
Starr King Lodge keeps the ideals of its namesake alive by staying active both within the fraternity and the community of Salem. They provide many family and fraternal activities. Instituted April 13, 1864. Thomas Starr King was an American Unitarian Minister from Massachusetts who traveled to California. He was an advocate for the Abolitionist movement and retaining the Union during the Civil War period. Starr King is credited by President Lincoln himself for keeping California from seceding from the Union. He became a Freemason in San Francisco and served as a Grand Orator for California.
---
The Company is a leader in providing comprehensive insurance programs to the Energy Industry in all 50 states and has been instrumental in the development of insurance provider programs, from coverage forms to effective loss prevention programs. EHI has developed exclusive relationships with many insurance companies and strategic partners. In addition, the Company has developed a proprietary safety and loss prevention program, SafetyPLUS™ and Energi Live™ that is customized for clients. The Company's shareholders include leading energy distribution companies, a preeminent worldwide reinsurance company and Energi management.
---
Exhibitors: Double Click On The Organization/Company Name To Visit Website

---
---