Media & News
---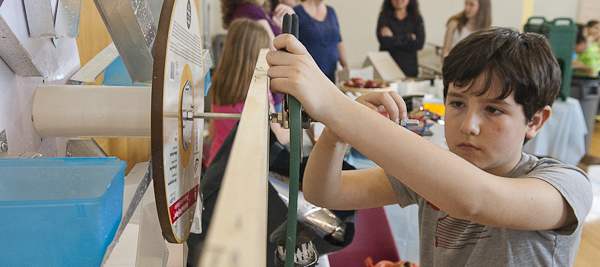 James Broderick adjusting his water wheel power demonstration at GreenFest 2014. James is in the 5th Grade at the Burke school.
Let's See What Young People Are Doing.
By Jerry Halberstadt
Wed, 05/07/2014 - 13:25
On Saturday, May 3, 2014, hundreds of visitors attended GreenFest 2014 at the Captain Samuel Brown School in Peabody. The teachers and students carried out the theme of GreenFest 2014, "STEM Education for a Sustainable Future." (STEM=Science, Technology, Engineering, Math) GreenFest is organized each year by Green Peabody, a committee appointed by the Mayor of Peabody, Edward Bettencourt. Among the many exhibitors were Peabody schoolchildren presenting a wide range of arts, crafts, and science experiments, all around the idea of a green, sustainable Peabody. Recycling and energy efficiency were featured by commercial exhibitors as well as by students. Other exhibits featured academic studies on flooding and marketing environmental issues to consumers, as well as several organizations involved in environmental education and preservation. Children were able to engage in crafts such as coloring and recycling plastic bottles, and creating unique fashionable wearables. The focus on renewable energy sources was highlighted by several exhibits by students that involved constructing a working exhibit, carrying out experiments, and presentations with explanations of the working models.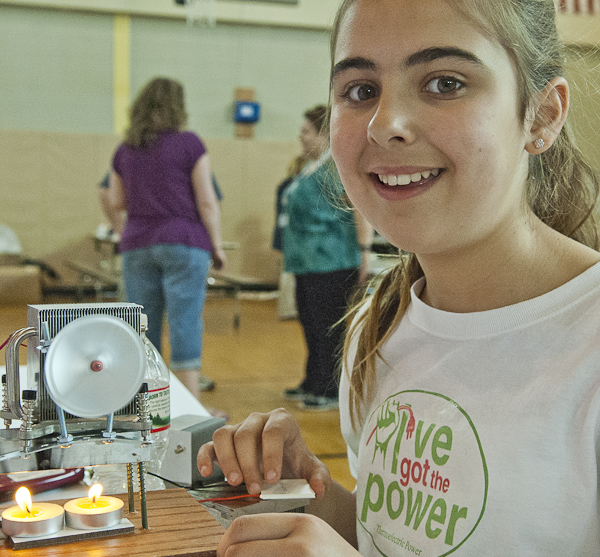 Samantha Silva, 5th grade student at Center School, demonstrates her thermoelectric project at GreenFest 2014.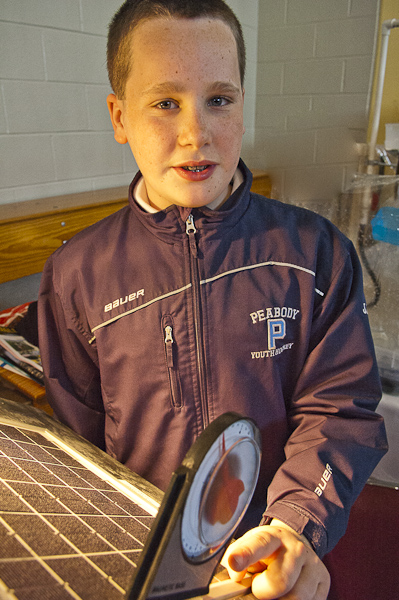 JJ Jalbert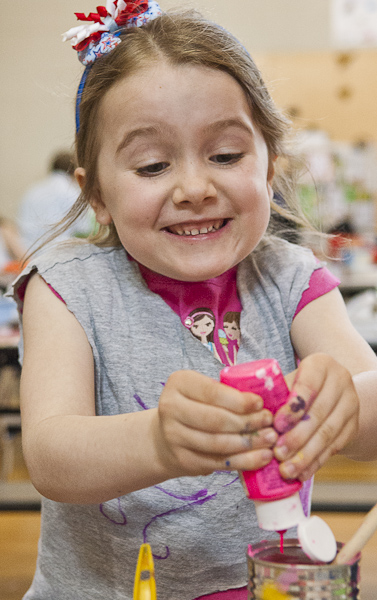 Alexandra Silva
---
PeabodyPatch
Peabody's GreenFest Sows the Seeds of Sustainability
The Green Peabody event featured electronics recycling and several eco-friendly businesses.
By Andria Sousa, May 2, 2011
Each year companies pop up all over the Commonwealth with new, innovative means of alternative energy. Three years ago, with the direction of Mayor Michael Bonfanti, Peabody joined the charge with the city's formation of Green Peabody, a volunteer organization aimed at greening the city through citywide initiatives and education. On Saturday, Green Peabody held the city's first ever GreenFest, with more than 25 local businesses exhibiting measurements in clean air, renewable energy, energy conservation and sustainability. Russ Eckel, chairman of Green Peabody, said the purpose of the committee and of GreenFest was to provide education and support to the residents of Peabody. "The first two years of Green Peabody's primary focus was to work with the city to improve the recycling program," Eckel said. "Peabody per capita was one of the least recycling communities based on a per household basis." After working with the city they are going to bring the twice a month recycling city up to a weekly curbside recycling city, Eckel added. Residents will still be responsible for separating their recycling, but it will be much easier with a pickup service. Eckel hopes the new recycling program and GreenFest will generate more interest in conservation of energy of all kinds and help build more community initiatives. "One of the primary goals for hosting the event was to help us find and help communicate to those who are interested in renewable energy and energy efficiency, they find us, we find them and we can more together," he said. In promoting the education of sustainability, many community members and Peabody Veterans Memorial High School students were also at the event volunteering or providing education. Students for Environmental Action had a game table set up for kids where they could learn about the environment with word searches, puzzles and trivia games. "It is good to start young and learn about establishing habits now involving sustainability that you can carry throughout life," said senior Alicia Chevoor.
Anthony Cutone, the student group's president, said their members educate students on how to be green and environmentally friendly and promote the recycling program at the school. Senior Danielle Mathis, who also takes the AP environmental science class, said she has always been interested in the environment but didn't know a lot about green initiatives. Through her class and the club she has learned how even little things can really help in the long run. "I care about the environment and educating people on what they can do to help the environment, if you're not educated then you don't know how help" Cutone said. Peabody High School special education teacher Linda Robbins got her students involved in GreenFest as part of learning about community service. After getting involved with the committee she looked into electronic recycling as a way for her students to get involved. "Electronic recycling is important, instead of adding to the landfills, we offered a way for the community to dispose of their electronics easily," she said. People streamed in and out all day disposing of old computers, televisions, phones and a variety of other electronic devices. Costing $4 to recycle most items, with additional fee for larger electronics. The items were recycled at a per pound cost by Electronic Recyclers, any profit made would go towards the Green Peabody Committee, Robbins said. Local businesses were eager to inform people about the newest ways they could make their home, car, or life more green. Most have heard the expression turning water into wine, but how about turning olives into water? The Great American Rain Barrel Company recycles imported olive barrels into rainwater barrels. The barrels, which hold 60 gallons of rainwater, can be used for watering plants and gardens. Peabody residents who order by May 18 can save 40 percent on their barrel. Mark Beckley, owner of Small Business Computing, provides the Green Machine, "the last computer you will ever have to buy," he promotes. The computer offers individualized hard drives for members of the family, blue-ray technology and the capability of picking and choosing your gadgets, such as an Apple keyboard to fit your PC machine. Beckley said by building the motherboard and chip in a slider for easy access and service, the chip and motherboard could be easily replaced without compromising the computer. Instead of throwing a whole computer into a landfill ever few years and buying a new one, he said you just replace those items and keep your computer. The Dixie Chopper, an eye-catching gadget at the event, is a propane-powered lawnmower that burns cleaner said Chuck Holden of Holden Oil. Used at larger college campuses, the lawn mower expels less-emissions and mows a lawn at a faster rate. Eckel said as a person who believes that recent climate changes are indicators that humans are contributing to global warming, then it is only right that humans help fix the problem. "If you care about climate change and improving your own community that you have no choice but to get involved and do something," he added.
Source: PeabodyPatch
---
The Salem News
April 29, 2011
Peabody group to green it up at first GreenFest
By Jesse Roman
Staff writer
PEABODY — The future is now, and the GreenPeabody group wants to show you the way. "It's important for people to see that the idea of a green economy is not a far-off-in-the-distance concept — it's about the here and now," says Russ Eckel, the chairman of the first Peabody GreenFest, which takes place tomorrow from 9 a.m. to 2 p.m. at the Peter Torigian Community Life Center, 79 Central St., Peabody. The event aims to show visitors a sliver of the dozens of local businesses that give consumers an alternative to the old, tired and environmentally irresponsible options of the past. In addition to 27 exhibitors, there will be almost a dozen workshops, seed exchanges, children's activities, raffles and more. "What we're trying to do is help create a market for green products and services by closing the information gap between potential consumers and the entrepreneurs," he said. "We hope to create a community forum where you can efficiently get a sense of the businesses and social organizations out there working to provide an opportunity for you to make a different choice about how you consume energy." GreenFest exhibitors include farmers, solar and lighting experts, green landscapers, gardeners, scientists, and many more. People might be surprised to learn how many options are here on the North Shore for consumers wanting to reduce their carbon footprint, Eckel said. The 27 companies exhibiting their products "is just scratching the surface of what is out there," he said. The GreenFest event is a joint effort between the Peabody Area Chamber of Commerce and GreenPeabody — an ad hoc committee created by Mayor Michael Bonfanti three years ago. The dozen members of GreenPeabody, a combination of city employees and citizens, began planning GreenFest last fall as a way to get their group more involved and visible in the community and to start getting residents more interested and aware of ways they can help create a greener city and planet. "Frankly, many of us thought it was important on a personal or individual level to get off our butts and get going," Eckel said. "Pretty soon, we won't be able to afford to put gas in our cars. We should not just be thinking and debating this anymore, but actually doing it." Workshop topics are on everything from organic gardening and composting, to home energy efficiency and demonstrations from scientists at Osram Sylvania about the latest LED and lighting technologies. Anyone who attends one of the half-hour workshops will be entered to win four field box tickets to a Red Sox game in July.There will also be a seed and plant exchange, where visitors can drop off excess seeds and plants and pick up something different. A special area will be set up for children's activities organized and run by children's librarians from Peabody Institute Library and students from the Peabody Veterans High School Environmental Club. Visitors can also bring and recycle their old electronics for a nominal fee. Old cellphones and shoes are being collected at the event to be donated to charity.
Source: The Salem News